About This Fundraiser
We complain about the cold all the time. Sometimes it's a conversation starter: "oh man, it's so cold out there today!", sometimes it's to fill an awkward silence "Gosh, I'm cold!", and sometimes we're physically just cold! Unlike some, however, we can add another layer of clothes, we can pop in a coffee shop to warm up, or maybe we can just turn up the thermostat. Do we really have room to complain when there are so many out there who can do none of those?
So, I've decided to challenge myself this winter. Every time I complain about the cold, or harbor a grumbling spirit because of my body temperature, I'm donating 5,000won (roughly 5 dollars) toward purchasing long johns for the homeless of Seoul. It's been incredibly hard so far, but already rewarding! God has been helping me to capture my thoughts and change them into gratitude for the privileges I have.
Won't you join me in this challenge? Let's stop complaining about the cold and start harboring a heart of gratitude while helping those less fortunate. Win-win, right?
So how can you help? Maybe for a week you should tally how many times you complain about the cold and then send a lump sum? Or maybe you want to get your coworkers/bsf/mother's sister's aunt involved and make them cough up 5 bucks every time you hear them complain. Or maybe you just want to give a one-time offering, that's cool, too. What ever you decide, know that Jesus called us to serve the poor and marginalized, and this is a good way to start. <3
This fundraiser ends on January 1st!

(ps. the fundraiser image comes from http://seansmith.theworldrace.org/blogphotos/theworldrace/seansmith//complaining.jpg) :)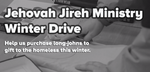 Help us raise funds to purchase long-johns to gift to the homeless this winter. Every month, Jehovah Jireh Ministry goes to Seoul Station to feed lunch to the homeless community and we want to not only serve them a hot meal but also gift them something warm to wear during the winter. Join us in spreading God's love this holiday season by donating today!