About This Fundraiser
Every year Jehovah Jireh Ministry raises funds to purchase warm gloves and socks for the winter. Last year we were able to bless the community with 1,000 pairs of gloves and socks. This year our request is for only 500 pairs of socks. With your help we can make this winter a warm one!
We are also raising 500,000won to go towards the Chriatmas dinner we will be serving at Seoul Station on Christmas day. Contact Kristen Rawlins at jehovahjireh@jubileeseoul.com if you are interested in serving.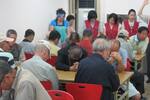 Jehovah Jireh Ministry goes out once a month to serve a meal to the homeless people living in and around the Seoul Station area.
We have also committed to give 500,000won per month to help cover the part of the rent for the facility.
Lastly, we have our General Fund which allows us to support our community beyond our regular monthly meal outreaches. Where there is a need, we want to fill it and be a blessing to our community.
If you are interested in getting involved on any level or would like to know more about this ministry, please feel free to contact Annie Kim at jehovahjireh@jubileeseoul.com
For all funds sent to this account, only US Credit Card holders and Paypal users will be able to receive US Tax Documents. All other funds are qualified for Korean Tax Documents only. Funds sent in South Korean Won cannot be applied to US Tax Documents.